Services
At Ducts Unlimited, we strive to provide the best in products and services.
We have the experience as well as the latest tools and technology to tackle almost any project, big or small. Just hear what some of our satisfied customers have to say.
Below is a sampling of our services. If you need something that is not listed here, please contact us so that we can see how we might address your needs.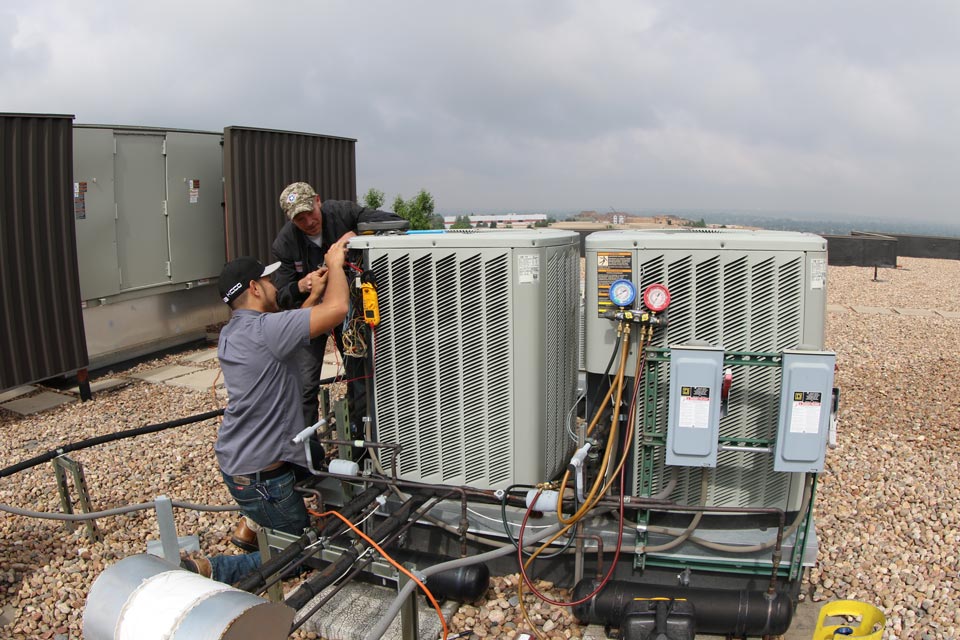 | | | |
| --- | --- | --- |
| VRV Systems | Computer Room A/C | Roof Top Units |
| Variable Air Volume Systems | Carrier Modulines | Chillers |
| Cooling Tower | Commercial HVAC | Lab Hoods & Exhaust |
| Hydronic Piping | Temporary Cooling | Heat Pumps |
| Fan Coil Units | Boilers | Energy Management |
| Building Automation | System Upgrades | Component Fabrication |
| Preventative Maintenance | Plumbing | Duct Coil Line Fabrication |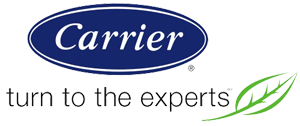 Fabrication Shop
Ducts Unlimited has a full production sheet metal shop and can fabricate any fitting you can draw. We do custom fittings for several sheet metal contractors at competitive prices. Our shop is equipped with a state of the art, computerized plasma cutter to insure precise fabrication of your parts. We provide tags for all fittings so parts are easy to identify on the job site. Turn around is fast on all orders, so emergency fittings are no problem. Contact us today for a free quote. Scott 303-699-2128 scott@ductsunlimitedinc.com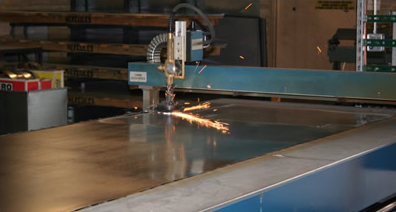 Recently Completed
This is a sampling of projects we have recently completed. No job is too large or too small.
| | |
| --- | --- |
| First Data | $1,200,000 |
| CU Wildlife | $115,000 |
| Kiewit | $197,000 |
| Sandisc Boulder | $567,000 |
| Emerald Oil | $142,579 |
| Karcher | $206,000 |
| Garvin Grounds | $180,200 |
| Sports Authority Marketing | $92,600 |
| Cable Labs | $188,750 |
| Ball Aerospace (RTU Upgrade) | $532,127 |
| Bridgepoint - University of the Rockies - 1201 16th Street, Denver | $598,213 |
| Qwest/Century Link - 931 17th Street, Denver | $775,353 |
| Qwest/Century Link - 930 17th Street, Denver | $604,826 |
| US Bank, Denver Operations - Denver | $849,000 |
| Hilton Garden Inn - Glendale | $657,646 |
| Van Gilder Insurance - Denver | $520,000 |
| Vail Resorts - Broomfield | $328,000 |
| Jefferson Office Park - Golden | $245,601 |
| Mad Greens Restaurant, Denver Art Museum - Denver | $11,336 |
| Brownstein Hyatt Farber Schreck, LLP - Denver | $233,000 |
| First United Bank - Denver | $216,000 |
| RNL Denver - Denver | $190,000 |
| Health Dialogue - Denver | $156,256 |
| Fidelity Exploration - Denver | $87,000 |
| Assistive Technologies - Denver | $198,000 |
| TIAA CREF - Denver | $47,000 |
| Aspect Energy - Denver | $69,000 |
| Centura Health - Broomfield | $60,000 |
| Symantic - Littleton | $74,113 |
| BKD - Denver | $42,000 |
| Castle Meinhold - Denver | $36,000 |
| American National Bank - Denver | $24,319 |
| CSU Expansion - Denver | $47,519 |
| HDR - Denver | $17,000 |
| KSL Capital - Denver | $45,000 |
| RTD - Denver | $20,000 |
| Lockton Insurance - Denver | $38,000 |
| Interior Concepts - Denver | $24,987 |
| Alliance Center - Denver | $527,076 |
| Weatherford Labs (Design Build) - Golden | $427,893 |
| Kind Love (Phase 1) - Denver | $771,286 |
| Denver Pearl Brewery - Denver | $27,355 |
| Grimaldi's Pizza - Denver | $87,105 |
| Honda (Boiler Replacement) - Denver | $62,676 |
| Visa - Highlands Ranch | $112,908 |
| US Bank (Damper Replacement) - Denver | $49,381 |
| Dot Hill (Server/Lab) - Longmont | $114,572 |